Category: Janene Justifiables Published on Monday, 25 July 2011 00:00 Written by Janene Ryan Hits: 1377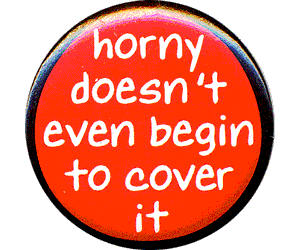 Q: Ok here we go I'm going thur a divorce the best decision I made for me and the kids and where happy and getting our life's back together ....BUT I'm so lonely I need to be cuddled and loved ..... me and my ex has been separated for 11 months ... I'm so lonely (I know I said that) but I've been talking to a old bf from high school that I feel tingly about but I don't know how he feel about me ... When I ask he says he thinks / thought about me too I don't want to move to fast but the sexual attraction is there ... I'm praying really hard because I'm thinking some real gutter butt whorish thought. ~Mrs. EX-horny!
Mrs. EX-horny, you have a legitimate issue; loaded, but legitimate. There are thousands of women struggling with the same wants, desires and riding the emotional rollercoaster of being in that place and space of their life. I've never been married so I can't speak from that aspect, but I am a woman who has had my fair share of rekindled flames.
First off, get yourself a toy. I know that's coming a little too strong – literally – but you have to get your horniness under control. Trust me when I tell you, those thoughts and hormones that you're fighting are only adding to the "sexual attraction" you have for this man. Perhaps if you were "at ease" the flame wouldn't burn so hot, but I'm sure because you're tense, the fire is suffocating.
Second, don't rush into anything. You are in a very lonely and vulnerable time in your life. You said it yourself, "you're happy and getting your life back on track," so don't get off track by substituting another man for the one you just got rid of. Divorce is not only a physical separation, but it's also a spiritual separation. While you allow your heart to mend from the separation, allow your body to separate as well; don't attach it to a man who may not be worth it.
I understand you are feeling some-type-of-way about this man – and to be honest, I think it's because you are lonely – but if he's not feeling the same way about you, or can't tell you how he feels without you first asking him, then it may not be worth the temptation.
We all have those feelings of loneliness – believe me, I KNOW – but we can't just give into our lusts and desires every time the wind blows (or he comes knocking). Those "gutter butt whorish thoughts" will go nowhere. They are there to make you act and react. Those feelings are there because God put them there – they are completely natural – but if you're a spiritual woman (you said you pray), I'm sure you're not okay with spreading eagle just for a cuddle-buddy or to rekindle a flame.
Slow down, take it easy, and see where this man is in his life NOW. Don't go off of what you knew about him from high school; years, marriages and children will change a person. If you just want to be held and cuddled without anything else then go for it. But if you need MORE and he's not worth the commitment, then take my first advice and head for the isle containing the batteries.
~janeneryan.com
If you have a question or need advice click here and and speak to me.